Online Student Induction Program (SIP)
Online Student Induction Program (SIP)
Report of Online Student Induction Program (SIP) (Academic Year 2020 – 21)
Due to the pandemic situation AICTE NEW Delhi decided to conduct online student induction Program. Also AICTE NEW Delhi conducted online teacher training program to conduct online SIP. Around 20 faculty members participated and The SSBT's COET Bambhori prepared a comprehensive plan for Induction Program for its pioneer batch of AICTE model curricula for academic year 2018 -19. The program was made 'full proof' with comprehensive discussion sessions amongst HODs and teachers. The program was implemented effectively during Feb.6th to 16th, 2021. Over 250 students participated in the program. As all the students cannot be engaged in one activity at a time due to the large number the induction program was divided into parallel sessions.
The inaugural session was addressed by Principal Dr. K S Wani. Professor Wani being a blend of administrator, teacher and researcher shared his long experience with the vibrant youth. Honourable Principal sir after welcoming students formally, in his address acknowledged and reiterated the achievements of the institute. Sir talked the courses offered by the institute and the NBA accreditation that the institute has done.
Guest lectures are essential for students as they provide different perspectives to the students about the life in general. Through the lectures of eminent personalities from across the fields enriches students sensibilities about their life in general and the society at large. Keeping this in mind our institute organised expert lectures of well-known personalities on various topics. These eminent speakers enriched students with their positive thoughts such as Sandip Mahajan of 'Lead India 2020' shared his expertise on 'How to overcome fear of English Speaking?' Mr Jaydeep Patil, Director, Nobel Foundation Jalgaon gave lessons on how to live a happy life in his lecture 'Ye Jindagi Na milegi Dobara'. Dr. Chetansingh Rajput, Sales Tax Commissioner spoke on 'Golden Ratio' relating to Maths with Fun. Prof. Dr. K. J. Patil, Former senior Professor at KBCNMU, Jalgaon shared his thoughts on symmetries in Science and Golden Ratio.
Due to Corona pandemic this year sports events like cricket, volleyball, football, khokho, kabaddi, basketball, shot put, running, badminton, carom, chess, table tennis etc that were organized last year were cancelled. This induction program included various cultural activities like singing, dance, acting, video/ short film making with editing, Essay Writing competition, etc. Students participated in these events enthusiastically. Cultural events nurture and evolve creativity in participants. These events are important in modern engineering field. Creativity promotes innovation and competition enables a person to work with a sense of purpose. It also teaches tolerance and coexistence and competitive spirit. These activities naturally prepare students to set goals and learn to achieve smaller goals at every stage of life. Activities help students to become good, creative human beings not just bookworms.
As Yoga and Meditation is intended to help students understand the basic principle to remain healthy and fit and practice them through a healthy routine. While Yoga provides mental and physical benefits, meditation allows students to know themselves better. These activities are necessary and important as they enable a person to keep balance of mind and to cope with work pressure. It boosts up the internal power of persons. Yoga and Meditation improve the concentration of students. These exercises make them strong enough to be calm and patient while dealing with untoward incidents in life. Yoga and meditation not only makes people healthy but gives inner peace to those who practice these exercises seriously. Considering this and giving students exposure to the benefits of these exercises we organized some regular sessions on Yoga and Meditations by experts like Mr. Jitendra Jadhav.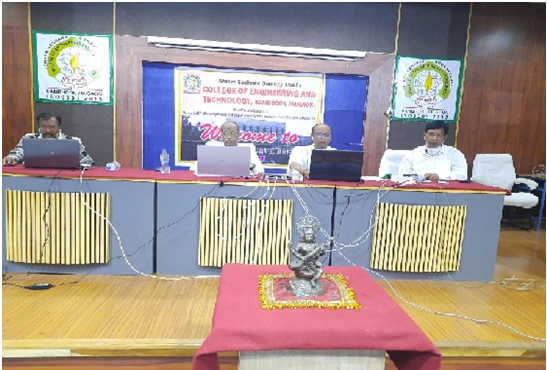 Principal. (Dr.) K. S. wani is addressing to the students of First Year during Induction 2020-21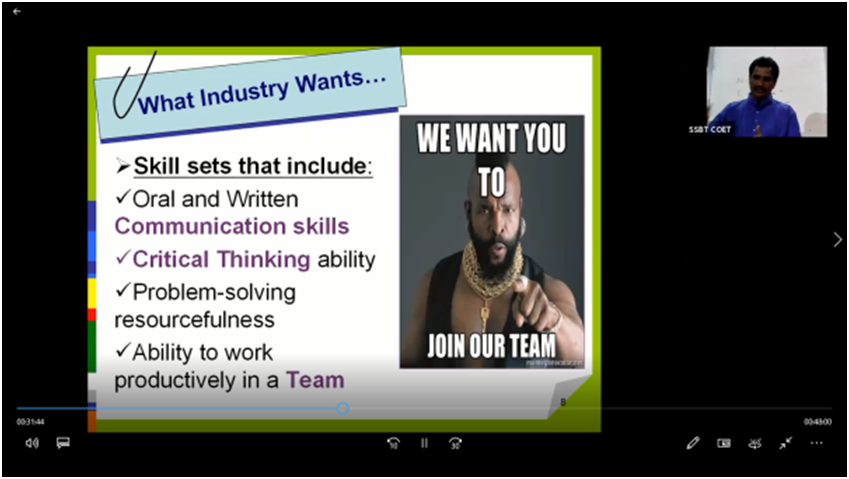 Mr. Sandeep Mahajan Conducting Session 'How to overcome fear of English Speaking?'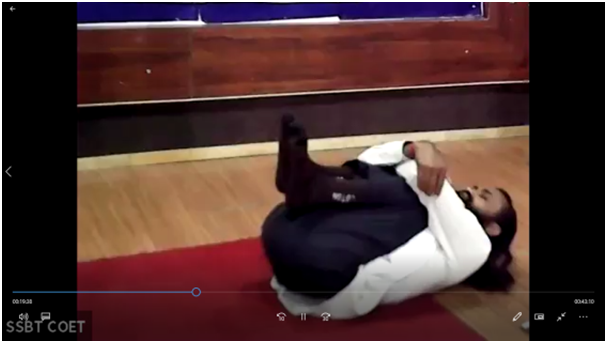 Yoga And Meditation Session conducted by Trainer Mr. Jitendra Jadhav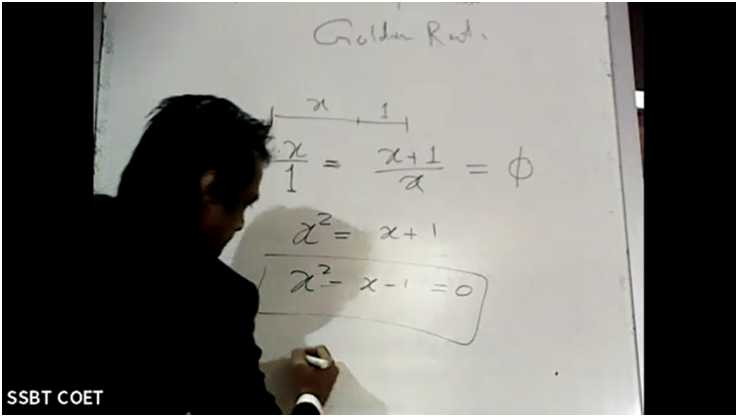 Dr. Chetansingh Rajput Conducted Session On "Golden Ratio"

Prof. Dr. K.J Patil delivered Talk on Nature and Symmentry